First in the series
Patrons are mentioning Canadian author Louise Penny's mystery novels more and more. It may be time you met her Chief Inspector Armand Gamache for yourself.
Still Life is the first of nine in this delightful "whodunit" series. All are set in the fictional village of Three Pines in the province of Quebec. You don't have to read the novels in order but it will be more satisfying to get to know the delightfully quirky characters as the series unfolds.
Louise Penny is a former Canadian journalist. She submitted the first book to United Kingdom's "Debut Dagger" and came in second out of 800 entries. Since then she's won five Agatha Awards and all her books have been nominated or won many prestigious awards.
The recent How The Light Gets In is the 9th in the series. It debuted at No. 1 on the New York Times Bestseller List. Kirkus starred review says it has "luminous insights into trust and friendship".
Armand Gamache is not one of your down and out, depressed Scandinavian detectives. He is dignified and has deep affection for the villagers. He also gives gentle life lessons. He tells each of his new agents four statements that will lead to wisdom in solving crimes:
I was wrong.

I am sorry.

I don't know.

I need help.
Actually, these four statements would help bring harmony to all human relationships. Check out Louise Penny's thoughtful volumes today.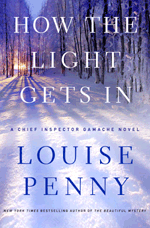 The latest in the series